Ecocentric Design offers building design and Passive House consulting services.
Ecocentric Design is committed to deep sustainability, specializing in ultra energy-efficient Passive House design, incorporating Living Building principles.
Passive House is a rigorous, voluntary standard for energy efficiency in a building, resulting in ultra-low energy buildings that require little energy for space heating or cooling.
Passive House is a building standard that is truly energy efficient, comfortable, affordable and ecological at the same time.
Passive House is not a brand name, but a construction concept that can be applied by anyone and that has stood the test of practice.
Read more about Passive house here.
A Living Building is 'designed and constructed to function as elegantly and efficiently as a flower:
a building informed by its bioregion's characteristics, generating all of its own energy
with renewable resources, capturing and treating all of its water, and operating efficiently and for
maximum beauty.'
Read more about about Living Building here.
Site Planning
At Ecocentric Design, we believe a building should be an integrated

part and a meaningful addition to the landscape.
We draw from permaculture principles in an adaptive design process to organize the project site and the relationship with the surrounding landscape. Optimization of solar exposure, site access, approach, privacy, the integration of food production and recreational space, power access/generation, water collection and waste water treatment are taken into account.

Conceptual design


After the building program is established and a building site is selected, a conceptual design is developed, in conjunction with the site plan.
The conceptual design (also called schematic design) captures the idea of the project as the principal building configuration, look and intent is visualized with a mass model and schematic drawings.

Design development
After the conceptual design is completed, the design is developed to a

defined, hard-lined plan. In this stage the floor plan layout, sections and elevations are developed as the building model is being refined, together with energy modeling, building materials, construction methods, principal details and environmental technologies.
PHPP (Passive House Planning Package) is the sophisticated energy modeling tool that is used during the design development to optimize the energy performance.
Passive House Certification, is an option to ensure that the building design truly meets Passive House requirements.

Construction Drawings
When the design is fully developed, the construction drawings, or blueprints, are generated.
In this stage the construction details, dimensioned plans, sections, elevations, door and window schedules and specifications are generated and compiled in a set of drawings.
In the case of a Passive House, the PHPP gets more refined as the design gets more detailed, ensuring Passive House criteria continue to be met.
The construction drawings serve as the principal document for building permit application and construction guidance.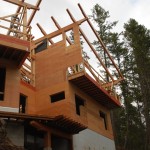 Site Review
The proper execution of the project is imperative for the achievement of Passive House and Living Building Certification. Therefore it is necessary to supervise the construction to ensure that the work is done in accordance with the design.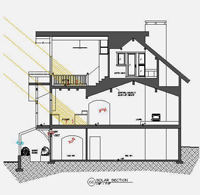 EcoPHit
Retrofit+Passive House+ecologic=EcoPHit. Integrating Passive House and Living Building principles into renovating or retrofitting of an existing home the embodied energy of the building is preserved, while the ecological footprint of the building's life cycle is reduced, adding value, comfort and functionality.
Consulting
We would be happy to help you with your Passive House or Eco-building project by:
-participating in charette with your design team
-reviewing and commenting on your design drawings in progress
-telephone question & answer sessions