This 2500 SF Custom Home in Kaslo, BC, is a colourful, energy efficient, contemporary home, designed for low maintenance and easy living.
The design of the home features and open concept plan centred around a big kitchen island that doubles as dining table. The party is always in the kitchen.
The house adapts itself to the layout of the land, cascading down the slope onto a rocky ridge and reaching out to the mountain view across Kootenay Lake.
The garage on the west side features a space saving design of a double height section with a car lift, a workshop an a bonus room overtop, taking advantage of its height to overlook Kaslo Bay towards True Blue Mountain.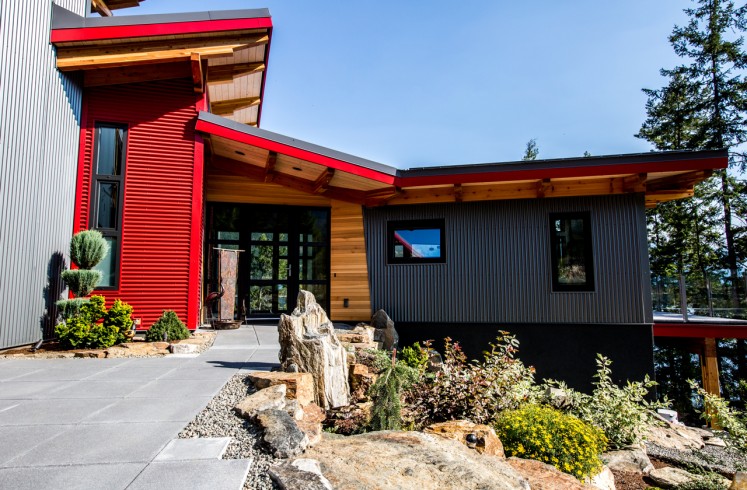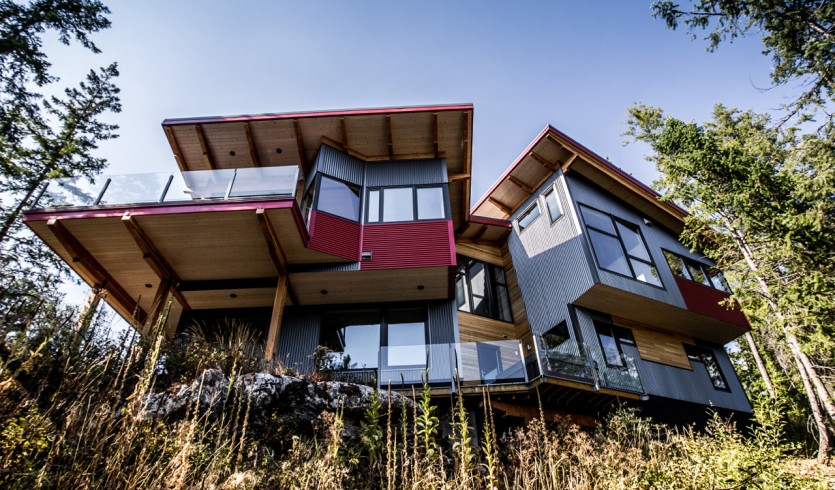 The energy efficient layout and construction features passive solar gain, triple pane windows and high insulation values in the wall and roof assemblies.
-calculated heating load: 13,000 kW/year, 63 kWh/(m2a) (equivalent to Energuide 83)
-energy efficiency achieved by high insulation values: (metric U-values and imperial R-values)
-roof: U-0.129 / R44 (6.6″ poly-iso insulation)
-walls: efficetive U-0.235 / R24 (some would say R30): staggered 2×4 w/ roxul (mineral wool, byproduct of mining industry in Grand Forks)
-floor: U-.0241 / R23.5 (4 conc. slab, 4.5″ EPS rigid insulation)
-doors and windows: Innotech triple pane tilt & turn Glass U-0.73/R7.8 Frame: U-1.2/R4.7
-solar energy gain by lots of windows on East, South and West, just a few small windows on north side.
-energy-efficient air to air heat exchanger
-HRV (heat recovery ventilator
-Solar Hot water Heater (solar panel to go on the empty south facing wall of the garage)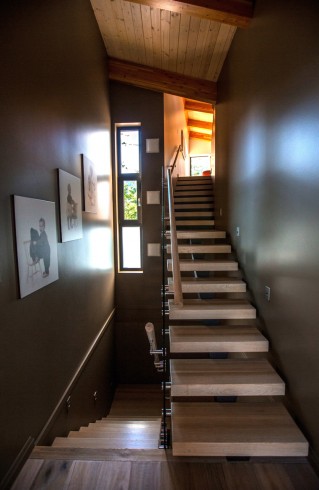 Sustainable materials
-wood frame construction
-gluelam timber roof and deck beams
-steel siding and steel roof (low maintenance, long life span, recyclable)
-clear cedar (more stable, so longer life span) siding where covered by large roof overhangs
– reclaimed rigid poly-iso boards for roof insulation
-waterproof deck covered with EPDM rubber membrane and pavers as top finish (protects EPDM form UV damage)
Eco-friendly Landscape
– the garden space is sheltered from north winds by house. The owners grew hot peppers and cucumbers in the first year!
-as many trees as possible were left on site.