Last week the Water Street Committee presented the Water Street Report to Village Council. The report contains two plan options for the upgrading and beautification of that portion of Water Street between 4th and 5th street, including the portion of 4th street between Front and Water Street.
The 'Water Street Planning Select Committee' was formed by Village Council in October 2010, and would consist of one village councillor (Suzan Hewatt) and 6 volunteers; 3 members of the business community adjacent to water street and 3 member of the community at large. Yours truly sat on this committee as one of the latter and assisted as such in the development of said plan options, while Ecocentric Design provided pro bono drafting services.
After we took an inventory of  present qualities and physical attributes, we had a few envisioning sessions, discussing what should be done with Water Street. We consulted with the Trail Blazers and the 'Spirit Square' Committee, both groups developing or making plans for areas adjacent to Water Street. We also incorporated public input, gathered by means of a public meeting and through individual letters. As well, we incorporated the results of a geotechnical survey and the practical knowledge from the village crew foreman. Read more about the process in the report.
At present, Water Street is a gravel street and parking lot with a breath-taking view. The street is located at the back of businesses that have their frontage on front street, and functions as delivery access and (overflow) parking. Especially during the busy summer months Water Street is often full of parked vehicles.
At first, there was a division within the committee between members that wanted to maximize the parking capacity of Water Street, which the business community claims to be vital for its survival, and those that wanted to create a park-like boulevard that would take full advantage of its view and location assets (being water frontage so close to the downtown core) creating an additional attraction for Kaslo and a strong connection between the downtown core and the lake.
In the end, the two plan options represent a compromise between these two functions and allows room for both. REad more about the plan options in the report.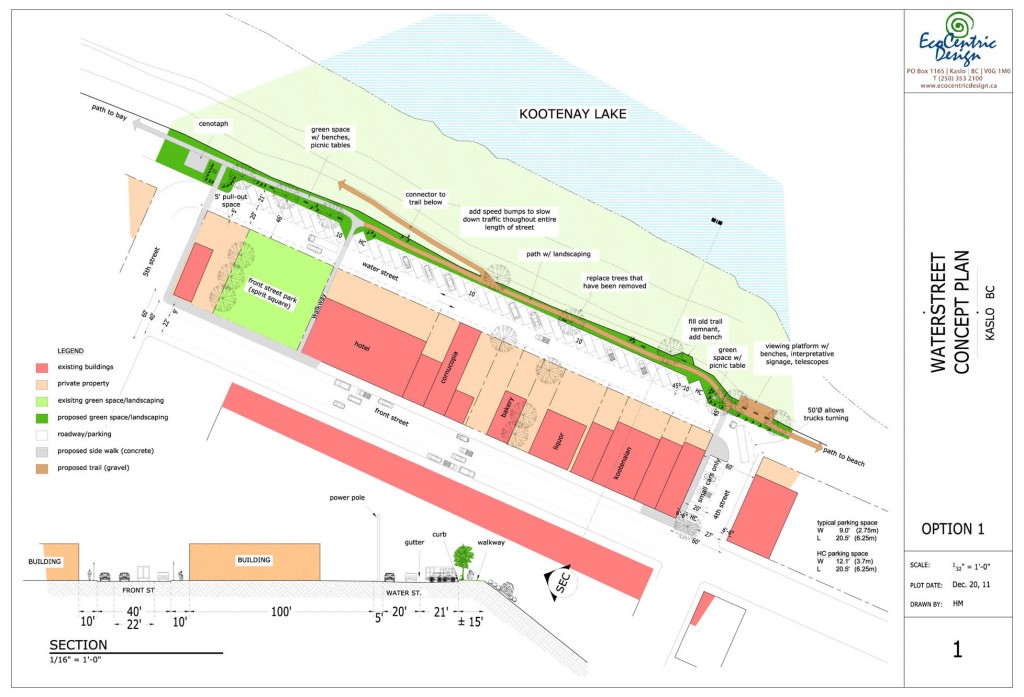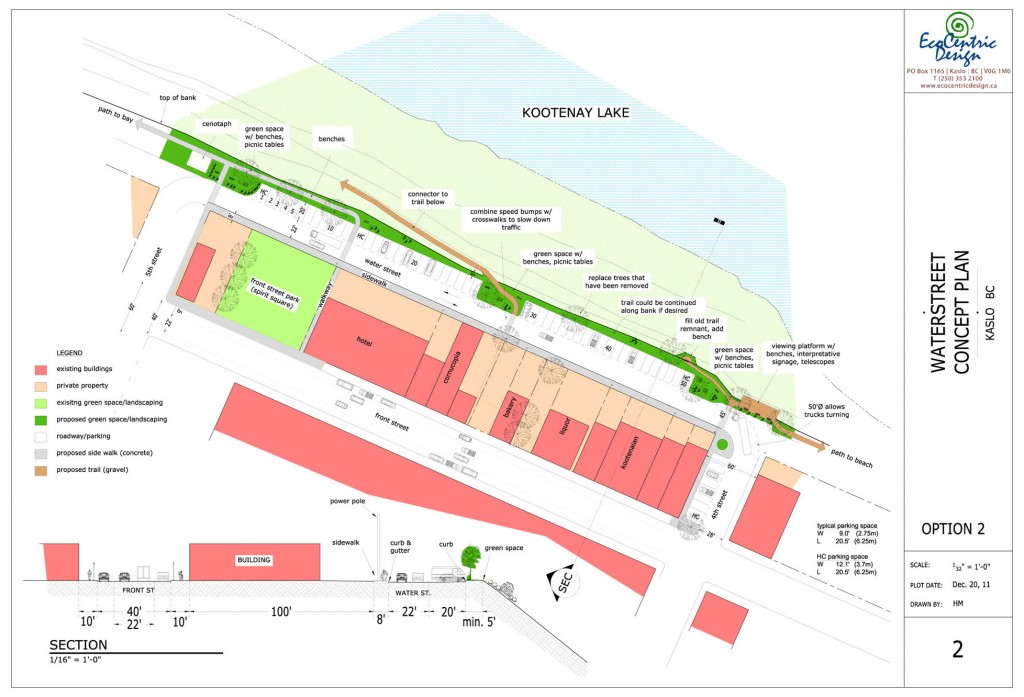 As the terms of reference of the committee was limited to the top of the bank, we didn't (officially) consider expanding the green space (with trails) over and down the bank including the slope down to the waters edge (where the trial blazers build a trail connecting the bay  with the Moyie beach) for a bona fide park. Some food for thought!